It does not seem credible, but that's what Trimble said, the GeoXH 2008 offers sub-meter accuracy in real time.
This equipment does not look bad, which allows data to be obtained via mobile phone with GNSS-type stations. Additionally, it uses Windows Mobile 6, wireless, Bluetooth and other pickets... here there are several doubts along the way, since it is understood that submetric with WAAS will be in the United States or Europe where there are quasi-free or paid services... so that for Latin America it will not mean much the picket "real time"
Surely you can move very fast in projects for which that precision is sufficient. For this case, a rural or rural cadastre should not have problems working in this way, because if a photointerpretation methodology is used, with printed orthophoto 1: 10,000 only the thickness of the delineation pencil has an error higher than the 5 meters . Of course, for an urban survey, where neighbors fight over the thickness of a wall of 15 centimeters, it is best to use post-processing.
To date I have not seen many affordable solutions for GPS with submetric accuracies, except for the Mobile Mapper from Magellan, which was barely around $1,500 and allowed submetric precision but with post-processing using the same equipment as a base or from another base, but always "post".
In itself, the Mobile Mapper is no more than a browser that without postprocessing obtains precisions of 2 to 3 meters, but with the differential correction it is possible to arrive at sub-metric precisions. Cheap to have these capabilities however do not expect to have them in real time.
If you ask me what made it cheap, I do not know, I used to think that it was the fact that I did not use touchscreen, I did not have Windows Mobile, not wireless and those things but the new versions of Mobile Mapper CX with some of this, rather you find them for less than $ 2,000.
Although it seems that Thales discontinued the Mobile Mapper Professional, for now only come with browsers and it seems that they are plotting a line called MM6 that if it goes to the market will be a good wave, because they say that would have Windows Mobile 6 with postprocess for sub-metric precisions less than $ 1,200 ... according to a friend tells me, is working the idea of ​​feeding a geodatabase in real time via SSM ... hopefully it is true (Thales), and maybe give us a commission for watering the gossip.
Ah, I was asked about the price of Trimble GeoXH?
Using Froogle, this pops up: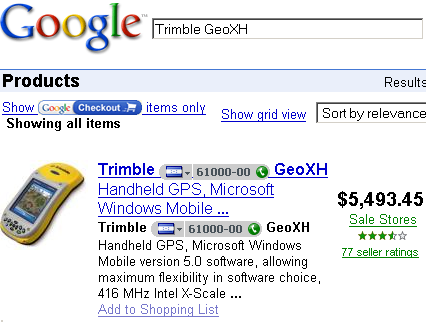 It does not compare to the love of a mother ... but the banana yellow color is beautiful, hehe. In the meantime I will settle for my Mobile Mapper, and I will keep the care that it requires because it catches the virus even the flu and they cost me $ 1,500.