Following is a statement of general interest
Dear partners.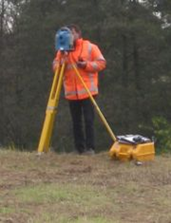 From a few months ago to today, surveyors as a group are suffering from robbery of our total stations, levels and gps.
From my work, in a company that distributes products in Topography, rare is the week, that I do not know of any robbery in a building booth, car or even in the work itself parked.
Generally these robberies are being produced in Madrid and surroundings. Many comrades say that they have seen the individuals who steal our equipment for a mafia, who then takes them to countries in the east and in South Africa, but we can not do anything.
My company, as a company that rents equipment to our collective, recently in a construction site, has suffered the theft of a GPS and two high-end stations of the Leica brand.
The robbery takes place at meal times, when the "thieves" enter the play without any modesty and pick up the "red or yellow boxes" and leave without any suspicion. I would not like to think that any of our helpers or staff of the work knew the value of the devices or made a fool for the robbery to occur.
Last week, I also want to think, that it is an isolated incident, in the vicinity of the A42, at the point of a knife, they stole the fixed GPS from a fellow surveyor of ours, causing him to lie on the ground on his back, so that they had time to run away.
I, even working on a work, suffered theft of the device I was using, being parked on the doors of the enclosure of that one and I to 20 meters of backs talking with the person in charge of work.
From my position and as a Surveyor, I am obviously worried about this situation and the levels he is reaching and if anyone of you or someone you know could exert any pressure on the police forces, politicians or the news media would be welcome. For my part, I would receive all the cooperation, of course.
After all these words, I offer some advice (reversed from a post of the forum cartesia) and as this is not solved, many of us will have to stop working, because you can not assume the theft of your device. Yes, if the equipment is insured, it is covered by insurance, but it takes a few days to collect, it does not charge the whole value of the material and worst of all is the days that are lost in resolving all the bureaucratic issues. If the appliance is rented to a supply house, it will require the franchise that can be of an 20%, of the current value of purchase of the equipment.
-Do not be separated much from the level or the total station, always be pending. If you have to move, to perform some management, assess whether to dismount and then void to park or look for someone to watch. Above all, special care should be taken in high-traffic areas such as streets and highways.
- If the devices are carried in the car, do not separate much from it. At meal times it is possible that the car is in sight and if you do not take the equipment with you to the restaurant or bar.
- Place the GPS fix, where there are people on the site and demand that they keep an eye on it.
Also place it in places of difficult access and with little visibility from highways, and in places of little traffic, or in fenced neighbors' plots, to which it asks them if they care that they are left there a few hours (they do not usually put problems). One solution is to take a car, put all the equipment in it except the radio antenna and GPs, and with the mobile phone make the correction method from the mobile.
- If possible, with the gps, work with reference stations, so we no longer use fixed gps.
- Any other measure you can think of.
Given the situation, it gives us the feeling that we were the escorts of someone important, but it is our way of life and if we lack, and more in these times of crisis, we do not know that we have left.
Maybe this email is not related to your work, but if it is related, or you know someone who does, please PASALO.
At your service, a greeting.
Juan Toro
Technical Engineer Surveyor
6247 Collegiate
Technical & Commercial Director
The Surveying Technique
juantoro@latecnica.com