This year awaits me with much to write and less to travel. After chewing my systematization plan a lot, I have prematurely concluded that at the end of the year I will have a few extra gray hair. All for inventing.
This systematization does not seek to create high smoke levels that become documents of official use of the Cadastre, rather it is expected in a compendium to document experiences and processes that are practical instruments based on what has been done in the last two years of the project.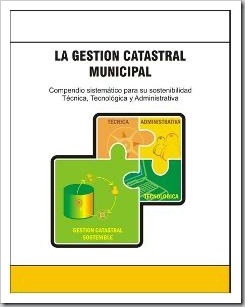 Here is a sample of what awaits me, I have eliminated the institutional logos, in the end the press will give you better taste but in the form of draft proposal here goes.
1 General Document
The general concept is based on a proposal for the municipal cadastre, taking advantage of the economies of scale, its multifunctional use and a strategy of sustainability in three areas: Technical, Technological and Administrative.
In this way the most general document is the Methodological Process for Municipal Cadastre Management, very at the executive level but with conceptual detail in terms of joint management, Spatial Data Infrastructures and implementation of cadastre projects.
3 Technical reports
The previous document refers and includes three intermediate products always within the municipal cadastre approach:
Technical Implementation
Administrative processes
Implementation of Technologies
These contain more theoretical than practical material at the technical report level, less executive than the general document and if you enter the descriptive level of the practical guides.
18 practical guides
Then in each area there is a series of practical guides (some manuals) for implementation, these do have an end-user approach but are referred to within the aforementioned documents; There is still a need to prioritize because I do not think they adjust the gray hair for so much and if it adjusts, they will have to be given a starting order based on the content that already exists. These include:
| | | |
| --- | --- | --- |
| Technical Processes | Technological Processes | Administrative processes |
| Urban Perimeters | Mapping and recovery of cadastres | Urban Uprising |
| Legislation applied to the Cadastre | Implementation of GIS in the cadastre | Rural Survey |
| The multi-purpose use of the Cadastre | Care of the equipment | Cadastral Valuation |
| Administrative limits and conflict resolution | Digital management of the cadastral data sheet | Training and accreditation of Personnel |
| Cadastral Values | Municipal integration to the National Cadastre | Planification and organization |
| Collection of Real Estate | Digital Cadastral Maintenance | Cadastral conservation |
This is an example of how the practical guides would be.
The products are for printers for a simple reason; prolong your life time in this age that everything is to carry in the USB but nothing to institutionalize. Although many of these topics have changing content, especially the technological one, it is necessary to document in hard copy to preserve even nostalgia and avoid duplication of efforts in knowledge management. Of course, they are looking for them to be released under a Creative Commons license in order to be able to be improved and applied in other environments
With this type of efforts, while doing good to the country, what is what was once a guinea pig but once the experience is systematized becomes an object of replication and opportunity for the actors.
... there I tell you.