The battle
Google and Microsoft maintain their battle for virtual balloons, both have opened a similar strategy, by making their data available for the online community to update for free.
Last year, Google provided a form so that people or institutions could fill it, making known what they had ... apparently to know where there was information.
Google Earth: click here
Now launched Google map Maker no matter if there is a patent), this is an alternative for users to build data and at the same time moderate what has been uploaded. Google sugiere that to create data you have a zoom between 500 and 1000 meters, you can add points of interest, roads and polygons.
This example shows a street that has been drawn on the image, additionally attributes of speed and conditions have been added; then others have approved it. And as it is on the image of Google Earth, it sure is as 30 meters out of phase.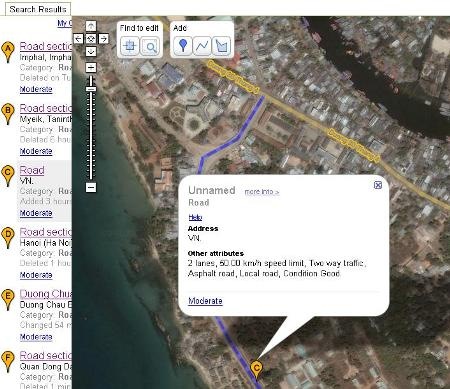 However, not everything is bad, the moderation option seems good to me, which did not exist in the previous campaign in which Google was engaged in contracting or acquiring data; result of that strategy came a good level of road update in many Hispanic countries. It seems that it was valued by linear meter of linestring ... and boy did they score a goal, see these images on the road to Marcovia, in southern Honduras.
The person who sold you the data forgot the concept of "road" and has drawn every path where cows are driven to rural properties ... He has forgotten to place the traffic lights clearly and surely that he could not add speed attributes heh heh. All that southern region of Honduras is like this, observe that the urban area does not have a single street, but each easement and access between salt production lagoons and shrimp farms is drawn.
This would also improve the way of filtering data from the community, which is what we visualize in Google Earth where there is a lot of confusion of information, pishing and duplicate data.
For now, the map maker program has been launched for those countries where there is very little data:
Cyprus, Iceland, Pakistan, Vietnam;
the rest are in the Caribbean: Antigua & Barbuda, Bahamas, Barbados, Bermuda, British Virgin Islands, Cayman Islands, Grenada, Jamaica, Netherlands Antilles, St. Kitts & Nevis, St. Lucia, St. Vincent & the Grenadines, Trinidad & Tobago
Virtual Earth: Give me the honor to consider your date
For its part, Virtual Earth has launched a campaign for those who want to share their aerial photographs.
The strategy is a little different from Google last year, in that there was at least one form. In this case, they expect you to send them a mail poem that tells them where you have images, and if they are interested they will send you the specifications.
They will give you the credit ... but no money, imagine how attractive it would be that when someone comes to an area of ​​the planet on Virtual Earth it says "some of the images on this map were kindly provided by ..."
Of course they will not say "and with those images we have kindly made a lot of money"
We will see where this ends, as now the business for the children of Pict'Earth with their orthophotos per inch square.