Google Maps added the highlight option to the map display, which includes contour lines from a certain zoom level.
This is activated in the left panel "Relief" and in the floating button you can activate or deactivate the view of curves.
The source of this contour line that Google has integrated is the digital terrain model initially developed by NASA and continued by the USGS, which is known as SRTM-90m. This functionality is visual in Google Maps, in Google Earth at the digital model level. The horizontal resolution is 90 meters (it varies with latitude) and based on this curve the rest was interpolated (It is assumed that in the United States it goes through 30 meters but it is useless to us). The vertical error is estimated to be 16 meters.
The download of this contour can be done from AutoCAD, obtaining points from a grid and generating a terrain model with its curves.
Step 1. Display the area where we want to obtain the Google Earth digital model.
Step 2. Import the digital model.
Using AutoCAD, having the Plex.Earth Add-ins installed. In principle, you have to start the session.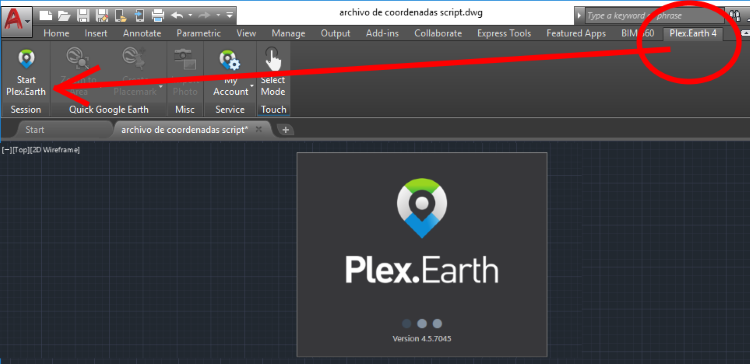 Then we select in the Terrain tab, the option «By GE View», it will ask us to confirm that 1,304 points will be imported; then it will ask us to confirm if we want the contour lines to be created. And ready; Google Earth contour lines in AutoCAD.
Step 3. Export to Google Earth
Having selected the object, we choose the KML Export option, then we indicate that the model is adjusted to the terrain and finally that it opens in Google Earth.
And right there we have the result.
De here you can download the kmz file that we have used in this example.
From here you can download the Plex.Earth plugin for AutoCAD.