From CAD design to control with a single software
Fuzzy Logic Robotics announces the presentation of the first version of Fuzzy studio™ at the Hannover Messe Industry 2021 fair which will mark a turning point in flexible robotic production.
➔ By dragging and dropping CAD parts onto your 3D digital twin, complex toolpaths are automatically generated and sent to the production robot with a single click. All with a universal software platform.
➔ From offline simulation to real-time control, the software Fuzzy studio™ eliminates the gap between simulation and reality to reduce downtime and optimize robotics workflow.
➔ Engineered from the ground up to dramatically reduce the need for robotics expertise thanks to code-free real-time digital twin technology.
➔ You can switch between any robot make and model with two clicks to find the right option for your application, without the need to change software or repeat time-consuming design tasks.
➔ It controls even the most complex robotic applications and is accessible to companies of all sizes.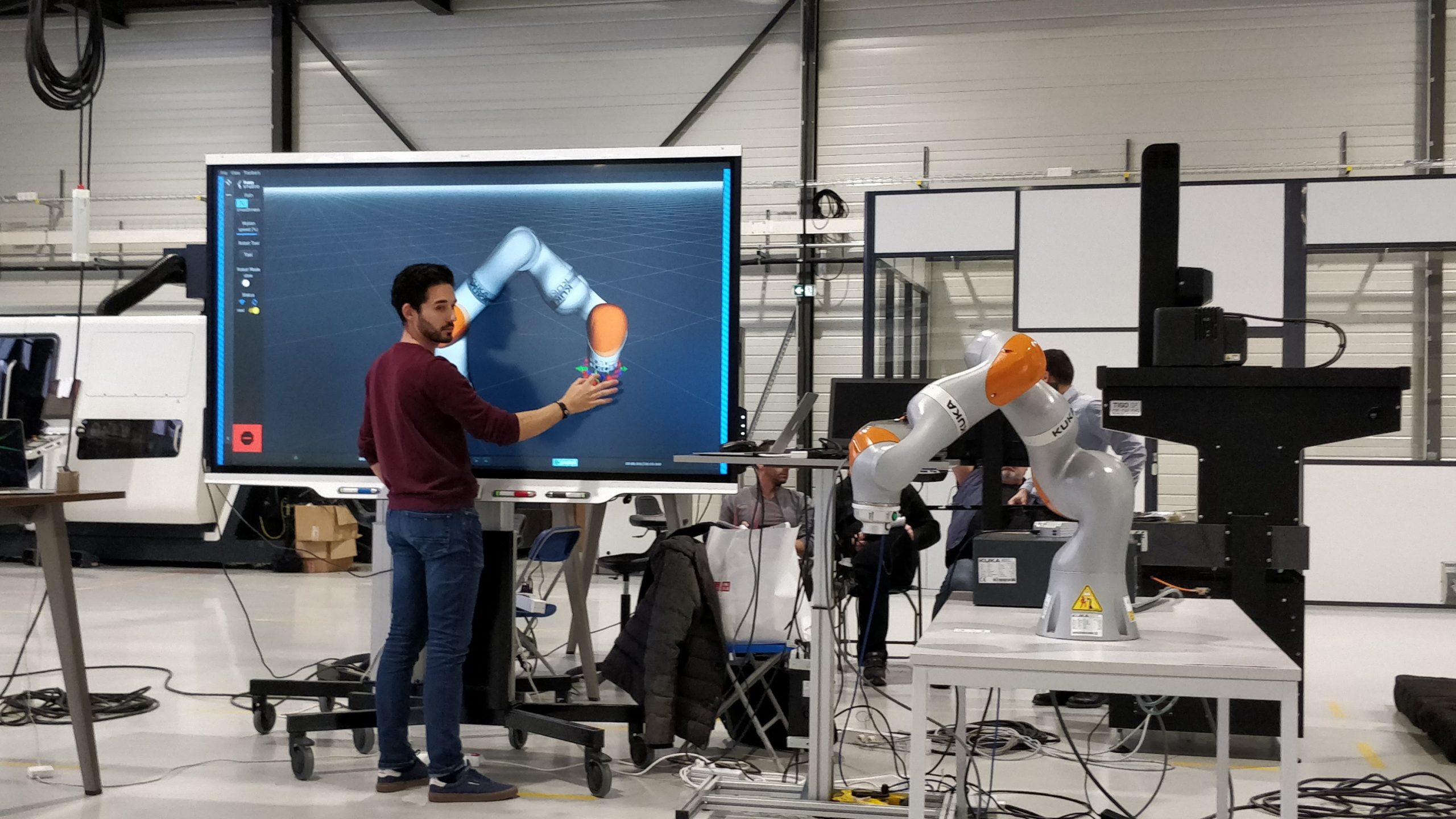 The difficulty up to the present
Both industrial and collaborative robots are very expensive to achieve truly flexible production due to the complexity of the software and integration. Currently only a few handling applications, such as pick-and-place, are truly accessible to non-experts and are therefore cost-effective for flexible production.
However, the vast majority of robotics and cobotics applications require complex and heterogeneous software tools, as well as brand experts. These tools require significant training and experience.
The result is that more than 75% of a robot's total cost of ownership (TCO) is related to training and software services for standard mass production. In flexible production this number can skyrocket above 90% of the TCO and thus destroy the potential return on investment in the robotic system.
Solution: an intuitive platform for all steps
Fuzzy studio™ is a universal and intuitive software platform that cuts robotic programming costs by a tenth. With Fuzzy Studio ™ any factory can be robotically automated quickly, easily and cost effectively, even with complex processing, dispensing and welding applications.
➔ Intuitive and simple like a video game
➔ A standard interface for all brands of robots
➔ Industrial-grade precision and performance for real-time robot control
Fuzzy Studio ™ covers all stages in the life of robotic cells, from project preparation, design and commissioning to real-time production control, online reprogramming and maintenance.
Designed to accelerate the adoption and use of robotics by all stakeholders, from major manufacturers to small and medium-sized businesses, system integrators and even OEM robot manufacturers.
Select robots from a wide library
Browse a complete collection of robot models from supported brands and filter by features.
Import CAD and 3D files with ease
Quickly create a robotic system with high fidelity interactive 3D and CAD objects. Supported formats: more than 40 formats including industrial CAD STEP and IGES.
Find the correct arm end tool
Select from multiple major manufacturer tool options or import custom tools. All supported tools are plug and play compatible.
Create and modify toolpaths visually
No confusing lines of code or coordinate systems. Visually construct the tool paths. Modify trajectories in real time and see changes in 3D.
Automatic generation of the trajectory by dragging and dropping
Drag and drop 3D CAD objects into the design and proprietary algorithms will automatically generate tool paths avoiding collisions, saving time, increasing performance and enhancing safety. Trade hours of meticulous work in just a few easy clicks.
Create a complete process without code
Organize toolpaths, tools, sensors and synchronize I / O. No need to write code.
Switch robots and keep working
Thanks to proprietary algorithms, users can switch between robots with two clicks on the design to find the one that is right for their job. All trajectories and processes are automatically recalculated and incompatibilities can be easily corrected.
One click install
Thanks to real-time deterministic control algorithms "what you see in the simulation is what you get in reality". A complete application can be installed with one click on the production robot and bridge the gap between simulation and reality. Processes are monitored and adjusted directly and in real time.
About Fuzzy Logic Robotics
Fuzzy Logic Robotics It grew out of France's leading robotics research institutes and was founded by a French-American team of robotics experts who saw a new way to control and program the next generation of robotics applications. Thanks to an old client in the audiovisual industry, the founders created a totally new solution so that inexperienced users could interact, control and program industrial robots for complex applications carried out by any robot. Their experience allowed them to transfer this innovation to the industry.
Our vision
From Geofumadas we are pleased to bring you all the news related to the geo world. In this case, Fuzzy Logic Robotics presents a solution that will facilitate the CAD data management processes to the real-time control of robots. This undoubtedly brings us closer to what we want in the 4th industrial revolution, where processes are automated and the necessary resources are generated for better time management. Fuzzy Studio's mission is to facilitate the next revolution in robotic automation by solving challenges and transforming the way people interact with and use robots. We invite you to visit the Fuzzy Logic Robotics website for more information contact them at ryan@flr.io anthony.owen@flr.io. We will be aware of the evolution of this solution to provide you with all the details first hand.