The case
I saw it about a year ago, with some geofumed friends while making a system for an international banking group. Specifically, it was about georeferencing the account holders of credit cards, that was an odyssey considering that the addresses were written almost in rock art.
But the end result were simple routines made for the bank's officers, in which they could ask questions such as:
Map of neighborhoods for high delinquency
Suitable areas for the installation of service agencies
Distribution routes of account statements
Attractive areas for the promotion of new products
This is what is called "Business Intelligence", which are nothing more than procedures that analyze certain variables on the fly and are shown on painted maps. The science is not in the GIS but in the analysis that leads to create the criteria for the routines, so it is appropriate to know the business, the times, the products offered, the customers and the local conditions.
I remember that the structure Multilayer made by my smoked friends, were screens for different levels:
For the Marketing Manager: A panel to manage the measurement criteria, such as acceptable percentages of default, customer selection criteria, sales targets, segmentation and positioning parameters ...
For GIS technicians, An interface that with the GUI manifold It was very economical, in that the technicians only geolocated each new client, created new zones, etc.
For managers, an interface with which they could see trends, compare sales against goals, make work plans and receive alerts of achievements or delays.
The results
It is usually known as Business Intelligence to the application of information for managerial decision making. Just as it would be:
Why do most crimes come from this area?
Where is the right place for the next shopping center?
What are the appropriate points for cellular antennas?
How much would be the value to pay per neighbor for this improvement?
Where do our sales come from?
Why in this colony we have so many delinquent clients?
The complex thing about this is that it must be programmed, and that is expensive. It is not expected that for each analysis the GIS technician will be making the painted maps and the marketing manager reviewing the applied criteria. For this, routines are applied that return the results, and where the parameters can be customized.
My regards for these technology quixotes, I remember that they managed to do on the IMS to create new points from the web application, making inserts in the Oracle database, deceiving Manifold that refreshed them on the fly.
The
We know that ESRI has an application for these purposes called Business Analysis, but in this case I want to talk about an application that has left me impressed with an application with which I want to conclude the post; it is called Map Intelligence, produced by Integeo, a company whose origin is in Australia but with services in different parts of the world, including the United States and Spain.
That makes Integeo Amazing
Plugin to integrate MI into Excell !!!
Being Excel an application of popular use, these have created a plugin that allows to connect to data either stored in Excel or in an external base, and to play with an interface that shows the graphic results according to the existing information.
You can play with layer theming, zoom in, zoom out, turn layers off or on. The data can be displayed from an ArcIMS publication or served from another application with OGC standards such as Manifold, ArcGIS Server, Geoserver ...
Integrates Geospatial and Reporting applications.
Map Intelligence has connectivity with geospatial applications such as ESRI, MapInfo, Geoserver and connects them with reporting applications such as MicroStrategy, Oracle / Hyperion, IBM / Cognos, SAS, SAP, Business Objects, Actuate or those generated from Eclipse.
According to the latest news, Sun has acquired this product to integrate Hyperion to ESRI, which would have an application running on Java, therefore on Mac and Linux.
Conclusion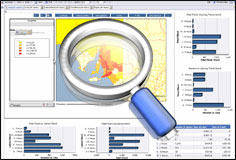 In the end it seems to me that this is a quite impressive application, especially because although it is oriented towards the final products of the GIS, it adapts to specialized data services and generates results without the need to have high development costs.
If you want to know more, go to Integeo and Integeo Iberia.