As a professional in the AEC industry, you are probably familiar with CAD (Computer Aided Design) and BIM (Building Information Modeling) software. These tools have completely revolutionized the way architects, engineers, and construction professionals design and manage construction projects. CAD has been around for decades, and BIM emerged in the 90s as a more advanced and collaborative approach to building design, construction, and maintenance.
The way in which we can model our environment or the elements that we use in daily life have changed and are constantly being updated. Each company focuses on providing the best solutions that allow you to execute tasks and create elements effectively. Technologies related to the AEC life cycle have had an impressive boom in recent years, solutions that seemed innovative a year or two ago are now obsolete, and every day other alternatives to model, analyze and share data appear.
Graebert offers its trinity of products, called ARES Trinity of CAD software, made up of: desktop application (Ares Commander), mobile application (Ares Touch) and cloud infrastructure (Ares Kudo). It provides the ability to create and modify CAD data and manage BIM workflows anywhere and from any desktop or mobile device.
Let's see how this trinity of products is made up, little known in some contexts but just as powerful.
CHARACTERISTICS OF THE TRINITY
ARES Commander – Desktop CAD
It is desktop software available for macOS, Windows, and Linux. Commander contains all the necessary functionalities to create 2D or 3D elements in DWG or DXF format. One of the characteristics that make it flexible is the possibility of working on it even when offline.
It is designed to provide high performance without heavy installation, its interface is friendly and functional. The new version 2023 includes several improvements in the interface, printing and file sharing that exceed the expectations of the users. Definitely, at the CAD level, Ares has a lot to offer, and deserves a chance in the AEC world.
They have successfully integrated tools for managing BIM data. ARES Commander offers a collaborative BIM environment through the integration of its 3 solutions. With its tools, you can extract 2D designs from Revit or IFC, update drawings via information containing BIM models as well as other filter information or check BIM object properties.
One of the unique features of ARES Commander is its compatibility with third party plugins and APIs. ARES Commander is compatible with more than 1.000 AutoCAD plugins, which allows you to extend its functionality and integrate it with other software tools. ARES Commander is also compatible with various programming languages, such as LISP, C++, and VBA, allowing you to automate repetitive tasks and customize your workflow.
ARES Touch – Mobile CAD
ARES Touch is the mobile CAD software tool that allows you to create, edit and annotate your designs on your smartphone or tablet. With ARES Touch, you can work on your designs even when you're away from home, and easily share them with your team or clients. ARES Touch supports 2D and 3D layouts, and comes with a wide variety of tools and features, such as layers, blocks, and hatches.
One of the advantages of using ARES Touch is that it offers a familiar and intuitive user interface, similar to that of ARES Commander. This means that you can easily switch between ARES Touch and ARES Commander without having to learn a new set of tools or commands. ARES Touch also supports cloud storage, allowing you to sync your designs across devices and platforms.
ARES Kudo – Cloud CAD
ares kudo it is more than a web viewer, it is a whole platform that allows the user to draw, edit and share DWG or DXF data with all the actors involved in a specific project. All of the above without requiring anything to be installed on a computer, likewise, it is possible to access all the information online and offline, from any of the devices associated with your organization. So it allows you to upload, download and share designs with your team or clients, regardless of their location or device
One of the advantages of using ARES Kudo is that it eliminates the need for expensive hardware upgrades and software installations. Kudo is a web-based tool, you can access it using any web browser or connect to multiple platforms or services, such as Microsoft OneDrive, Dropbox, Google Drive or Trimble Connect, due to its WebDav protocol.
You can subscribe to ARES Kudo separately for a price of 120 USD/year, although the annual trinity subscription is more cost-effective for the user. It also offers a free trial, so you can try it out before committing to a subscription.
COMPLEMENTS AND ADDITIONAL INFORMATION
Graebert offers the possibility of obtaining plugins that complement the functionalities of ARES. You can choose between using plugins developed by Graebert or others developed by different companies/institutions or analysts.
Another thing that has convinced us that this platform is currently one of the best in terms of CAD+BIM integration is the amount of information it offers users. And yes, many times new users search by all means where to obtain information on the execution of some processes or perhaps specifications of the functionalities without success.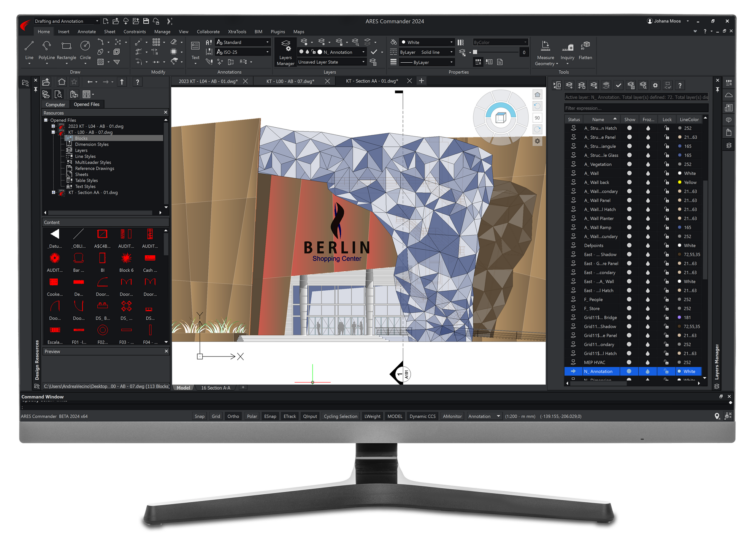 Graebert offers multiple tutorials on the web ranging from basic to advanced, he provides test drawings inside the commander installation folder that can be used for practice. In addition to the above, it offers a list of tips and tricks to execute commands and use some specific features.
This indicates the commitment that the company has had with user satisfaction, with the integrity and optimal functioning of each tool or platform. Specifically, ARES users can enjoy 3 invaluable items, which we list below:
ARES eNews: Free monthly newsletter providing tips, tutorials and news on ARES Trinity of CAD software and other CAD/BIM software tools, including case studies and success stories from AEC professionals using ARES Trinity.
Ares on Youtube: Online learning platform offering self-paced courses and tutorials on ARES Trinity of CAD software, covering a wide range of topics including 2D and 3D design, collaboration, and customization.
ARES support: is a dedicated support team that can help you with any technical problem or question you may have about ARES Trinity. It offers phone, email and chat support, online forums and knowledge bases.
GIS SOLUTIONS
ARES GIS solutions should be highlighted, although they are not included in the CAD/BIM trinity. Is about Ares-map and Ares Map (for ArcGIS users). The first option for analysts who have not purchased an ArcGIS license, a hybrid solution that contains all the GIS/CAD functionalities for the construction of entities with associated geographic information. The second option is for those who have previously purchased an ArcGIS license.
You can import a terrain model from ARES Map into ARES Commander and use it as the basis for your building design. You can also export your building layout from ARES Commander to ARES Map and view it in a geospatial context.
This is a solution within ESRI's partnerships with other companies that offer systems or products that offer CAD/BIM ecosystems, promoting the integration of GIS throughout the AEC life cycle. It works with ArcGIS Online and is based on the ARES Commander architecture. With this integration you can collect, convert and update all kinds of CAD information.
On the other hand, UNDET Point Cloud Plugin is also offered, a 3D point cloud processing software tool. It allows you to create and edit 3D models from laser scans, photogrammetry, and other point cloud data sources, and includes a wide variety of tools and features, such as mesh generation, surface adjustment, and texture mapping. Through the UNDET Point Cloud Plugin you can automatically generate 3D models from the point cloud data, allowing you to visualize, analyze and simulate different scenarios.
QUALITY / PRICE RATIO
The importance of ARES trinity of CAD software, is that it allows you to eliminate unnecessary project-related workflows from the AEC construction lifecycle. Access to the infrastructure in the cloud allows the correct updating, visualization and effective loading of the data in real time, avoiding all kinds of errors.
If we talk about its value for money, it can also be said that there is a directly proportional relationship. We have reviewed several sites where users have expressed their opinion on this point, and most agree that Graebert's solutions meet their needs. You can get the trinity for $350 a year, and free updates, if you want these benefits for 3 years the price is $700. It should be noted that the user who buys the 3-year license is paying for 2 years.
If you work with more than 3 users, you buy a "Floating" license (minimum of 3 licenses) for $1.650, this includes unlimited users, updates, Kudo and Touch. If you need an additional floating license, the price is $550, but if you pay for 2 years, your third year is free
With the above, we highlight that the possibility of having ARES Touch on all phones and tablets is a reality, as well as accessing the ARES Kudo cloud directly from any browser. Before you decide to purchase any of the licenses, you can download ARES Commander for a free trial.
Certainly the future of CAD+BIM is here, with trinity ARES you will get the flexibility to design, edit and share relevant information from any mobile device or computer. The intuitive design of these platforms understands the needs of the user and the CAD design.
DIFFERENCES WITH OTHER TOOLS
What sets ARES Trinity apart from traditional CAD tools is its focus on interoperability, mobility, and collaboration. With ARES Trinity, you can seamlessly work on your designs across different devices and platforms, collaborate with your team in real time, and integrate with other software tools and file formats. ARES Trinity can import IFC file formats into CAD geometry, ensuring that you can easily exchange data with other CAD and BIM software tools.
One of the main advantages of using ARES Trinity is that it can help you streamline your design workflow and increase your productivity. With features like dynamic blocks, smart dimensions, and advanced layer management, ARES Commander can help you create and modify your 2D and 3D designs faster and more accurately. ARES Kudo, meanwhile, allows you to access your designs from anywhere, collaborate with your team in real time, and even edit your designs directly in a web browser.
Another advantage of using ARES Trinity is that it can help you reduce your software costs and increase your ROI. ARES Trinity is an interoperable alternative to other CAD and BIM software tools, such as AutoCAD, Revit, and ArchiCAD. ARES Trinity offers flexible licensing options, including subscription and perpetual licenses, and can be used on multiple platforms at no additional cost. This means you can save money on software licenses and hardware upgrades while still having access to powerful CAD and BIM features.
Compared to AutoCAD, which has been the leader in CAD for decades, ARES is positioned as a cost-effective tool, with flexible license options and a user-friendly interface –in addition to its compatibility with AutoCAD plugins as previously mentioned-. If we talk about other tools like Revit, it could be said that it offers the user a lighter and more flexible approach, with which you will import RVT files, modify and create designs easily and efficiently.
WHAT TO EXPECT FROM ARES?
It is important to clarify that ARES is not a BIM software. It is compatible with AutoCAD or BricsCAD, because it handles the same DWG file type. ARES doesn't try to compete with Revit or ArchiCAD, but it is one of the few CAD programs that can import IFC and RVT files, with their geometry in a DWG environment. As can be seen in the following video:
If you are just starting out or if you are already defined as an AEC professional, we recommend that you try ARES Trinity. The possibility to download and test the tool for free is a great plus, so that you can verify for yourself all the functionalities, explore its features and advantages –and maybe you will make it the #1 software for you-.
The availability of numerous training and support resources available is invaluable, – that many other tools have, of course they do-, but this time we want to highlight Graebert's efforts to reach a certain similarity with the most powerful and popular CAD tools that have been on the market for decades.
Really, we have "played" with the interface and functionalities, and we consider it great for the creation of drawings, modification of 2D and 3D models, collaboration and modification of workflows, 100% functional in data integration. Likewise, it can be used for mechanical design, such as assemblies or mechanical parts, as well as the performance of each of them.
For many, having the possibility of having less expensive software, but just as efficient, is more than enough. And our world of constant changes requires having different, updated options that promote the integration of technologies and efficient and effective data presentation. ARES is one of our most recent recommendations, download it, use it, and comment on your experience.