Mapping our world has always been a necessity, but nowadays it is not just identifying or locating elements or areas in a specific cartography; Now it is essential to visualize the environment in three dimensions to have a better understanding of the geographical space.
Geographic Information Systems are tools for the analysis and management of spatial data, with these simulations of the environment can be made to understand the socio-spatial, natural and technological processes that occur in an area. Esri has been at the forefront in the development of solutions oriented to "Location intelligence", it has strengthened the processes in the construction life cycle (AEC) through the integration of its tools.
In the 3D scenario, different types of elements are handled, such as data from remote sensors, BIM, IoT to obtain the modeling of the surface that is as close to reality as possible. ArcGIS is one of the Esri products that supports 3D data (with XYZ information), such as lidar point clouds, multipatch, or meshes, or simple vector geometry such as lines or polygons.
It is clear that the 3D trend is irreversible, one of the features that GIS solutions are implementing today and that users are valuing every day as a higher priority. So, in a conversation with my colleague at the Geospatial World Conference, we decided to work on an article about ESRI.
To talk about ESRI solutions, it is necessary to know more about the complete environment, which currently includes solutions even for digital twins (planning twin, Construction twin, Operation twin and Collaboration twin), which we will touch on in another article but in this case we will see it from the optics of the non-specialized user who is looking for almost turnkey solutions.
The manipulation of 3D data in ArcGIS is provided by solutions such as: Drone2Map, ArcGIS Pro, ArcGIS Earth, ArcGIS CityEngine. Esri has made a special effort to improve its components and strengthen its solutions to promote better GIS+BIM integration, which translates into better management of resources and cities. There is also a close relationship with other CAD or 3D modeling systems (Revit, Infraworks, ifc), which through plugins or add-ons may admit GIS attributive information. Also, the models generated in software such as Revit can be viewed directly in ArcGIS Pro, without going through a chain of modification or transformation.
Not long ago Esri acquired two companies to improve its 3D capabilities. Zibumi and nFrames –SURE DevelopersTM-. One for the creation, integration and simulation of 3D data, and the second a surface reconstruction software, with which 3D analysis can be carried out and data capture planned in a fully automated way.
But what are the benefits of the 3D capabilities of ArcGIS?
In the first place, they allow the design of strategies for spatial planning, from the administration of service/equipment facilities, cadastre, to evaluating the surrounding ecosystem of a building. They are useful for handling large amounts of data –Big Data– and integrate with other software.
The 3D capabilities of ArcGIS can be summarized in the following list:
3D data visualization
Create 3D data and scenes
Data management (analyse, edit and share)
Although the above is not only there, but also the interoperability of the systems developed by Esri, they offer ease in handling 2D, 3D, KML, BIM data, rich and interactive spatial analysis, and very powerful mapping tools. Here is a summary of the aforementioned 4 ESRI solutions features:
1.ArcGIS CityEngine
With this software the user will be able to design and model his scenes, save them, make the streets and other elements dynamic. You can use real life data or create a completely fictional environment. Supports Python commands and automated workflows. Although it is independent of ArcGIS, it does not mean that data generated in CityEngine is not integrated and can be connected to ArcGIS Online to be published and shared.
With CityEngine you can make dynamic designs of cities, it has a fully customizable interface that adjusts to the needs of the analyst. It is an interoperable system that supports a large number of formats from any other GIS or architecture/engineering software. Just like ArcGIS pro, it stores your data in layers according to their attributes.
2.Drone2Map
Drone2Map is a system that allows the visualization and display of data captured by drones, which is later converted into a 3D mapping product. Although it also generates 2D data such as orthophotomosaics, digital terrain models, or contour lines.
In addition to managing user data, it enables better decision-making when planning a data capture flight. It can be used during the flight process and check if the scenes are correctly adjusted to what is required. It is integrated with ArcGIS (ArcGIS Online, ArcGIS Desktop, and Enterprise), where all information can be processed and shared. Drone2Map is a product developed in collaboration with Pix4D.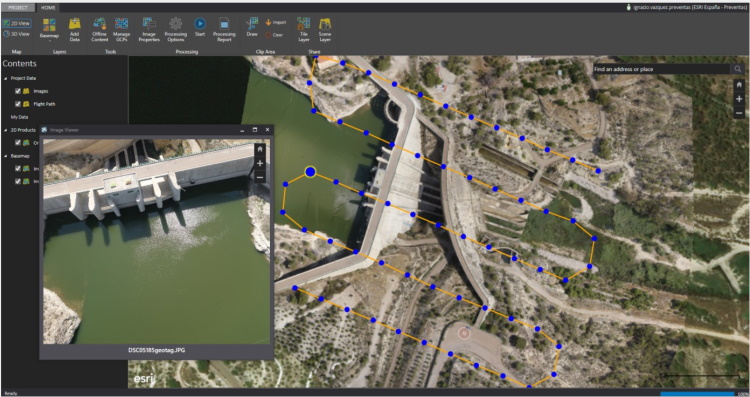 3.ArcGIS Pro
3D capabilities are natively configured in the system, which means that any cartographic information can be converted to a 3D scene. Some of its functionalities are: Voxel to visualize 3D data with voxel cubes, maintenance of 2D, 3D and 4D data, GIS desktop integration with web to share data.
In ArcGIS Pro there are several types of features:
Polygons, points/multipoints and lines are elements that go from 2D to 3D when Z values ​​are included.
Multipatch or multipatch defined as shell objects that are composed of 3D polygon faces. These entities are capable of obtaining levels of detail and can be created in different ways.
3D features where features are stored and managed in the geodatabase with location and a 3D geometry mesh
Annotations: These are text elements needed to identify or describe objects.
4. ArcGIS Indoors
It is an application that makes it possible to create an "inventory" of the assets and installations in a building. This requires the design and georeferencing of data in CAD software, which is subsequently processed in the GIS. It is a tool that promotes smart building management, giving organizations "the ability to properly define, allocate, and allocate space to better support workplace operations, communication, and productivity" Esri. It works through an extended version of ArcGIS Pro, web and mobile apps, and an indoor information model.
5.ArcGIS Earth
It is a data viewer, presented as an interactive globe. There you can browse information, perform searches, share data, take measurements and add data such as .KML, .KMZ, .SHP, .CSV and more. It is completely free and its interface is easy to use.
It should be mentioned, something that perhaps many do not know, the 3D modeling capabilities of Esri solutions have reached as far as the big screen, allowing these spatial elements to be generated in such a way that they look as close as possible to the big screen. reality – as in the Disney Pixar movie The Incredibles -. Esri continues to bet on innovation, creating tools that allow us to understand spatial dynamics, that are of social and environmental utility, and where all the actors that make life in a space can participate, visualize, and make the right decisions for a collective benefit. .