The Economic Commission for Latin America and the Caribbean (ECLAC) has presented a very complete statistical yearbook for the Hispanic world with data of interest for many processes investigated.
These data are both collected and projected to several years forward, among them I have called attention to the population information of urban cities of different Hispanic countries and results in poverty reduction that do not match very well with the reports of the institutions that manage funds for the Poverty Reduction Strategy (PRS)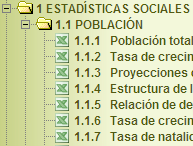 There is the option to download the document in English or Spanish in pdf format; It is very important that online data has also been integrated and can be downloaded in excel format.
Among the topics that can be found are:
1 SOCIAL STATISTICS
1.1 POPULATION
1.2 WORK
1.3 EDUCATION
1.4 HEALTH
1.5 HOUSING AND BASIC SERVICES
1.6 POVERTY AND INCOME DISTRIBUTION
1.7 GENDER
2 ECONOMIC STATISTICS
2.1 NATIONAL ACCOUNTS
2.2 EXTERNAL SECTOR
2.3 PRICES
2.4 SECTORAL STATISTICS
3 STATISTICS OF NATURAL AND ENVIRONMENTAL RESOURCES
3.1 PROTECTED AREAS
3.2 USING THE EARTH
3.3 MARES AND COASTAL EDGE
3.4 FOREST
3.5 ENERGY
3.6 AIR AND ATMOSPHERE
3.7 NATURAL DISASTERS
3.8 TRANSPORT AND INFRASTRUCTURE
3.9 ENVIRONMENTAL MANAGEMENT
Also included are technical notes that explain the criteria used, methodology, terms and sources of information.
Vía: GeoBolivia, a blog that I recommend to follow.